ISO RATINGS
***As of November 25th 2013 our NEW ISO Class 6/8B Rating took effect for all subscribing homeowners *Class 6: Homeowners within 5 road miles and within 1000 feet of an approved Fire Hydrant, and the 8B Rating: Homes within 5 road miles of the fire station but NOT near an approved Fire Hydrant.

Anyone beyond five miles is an ISO Class 10. The Insurance Service Office limited ANY serving fire station to a FIVE Road Mile Range from its station and does not rate fire protection for any station nationwide if they serve areas greater than 5 miles, unless a Satellite fire station is established to offer coverage to those more distant areas in the District.

This Fire Protection Rating is Proprietary. This means that only pre-paid fire protection subscribers who financially support the fire department are eligible for the ISO protection classification of the Class 6 or 8B where eligible.

Regional Fire & Rescue Department, Inc., is the public service fire protection provider for Unincorporated Central, and portions of Western Pinal County, and was evaluated and rated by the Insurance Service Office initially in the Spring of 1996, following one year of service to this area. A re-rating took effect in September 2012 and a corrected rating received in November 2013. RFRD had been previously issued a split rating of a Dwelling Class-8b and Rural Class-9 (since May 1, 1997) for homes and businesses in our response area within 5 road miles distance from our station. RFRD now enjoys a NEW and IMPROVED ISO Rating of a Class 6 & 8B for our subscribing residents and businesses within 5 road miles of our station.

Since 2003, the ISO has reduced the application of this ISO Rating System to apply to those homes or businesses only within a 5 mile radius. This unfortunately, adversely affects home and business owners greater than five miles or as many as 10 to 15 miles where the Rural Class-9 Rating once applied. This is no longer the case. We are planning to expand to a second station for the Hopi Hills area that would provide lowered ISO ratings for residents north of Casa Grande. However we are still awaiting a land donation to come through in order to apply to the USDA for funding to construct and new fire station with two bay truck bay to house an Engine and a Water Tanker (Tender) in what will be labeled "Station 587."

Availability of this lowered ISO Rating and system can only be achieved by moving additional apparatus to the Hopi Hills Community. We require property to be able to house this apparatus, and potentially provide "live-in" Firefighters to provide cost-neutral manpower in the event an emergency occurs that can provide them the opportunity to respond. The ISO has now forced this situation and we feel the urgency is at hand to establish additional locations which can house apparatus, yet no manpower or staffing requirement would exist to achieve the Class 6 and Class-8B rating to improve homeowners insurance rates as well as economic factors for the community.
| | |
| --- | --- |
In our history, some insurers or their underwriters previously accepted the Rural Class-9 Rating from five, to as much as 10 or even 15 miles from our fire station, however this no longer the case as the 8b rating is only applicable to within a Five Mile radius of the serving fire station. By utilizing Google Maps online, you can obtain road mileage to your home from our fire station using our physical address (7951 W. McCartney Road) to determine road mileage. This situation will not improve until or unless we can obtain community assistance in locating and establishing a suitable permanent site (or lot) of which may have a single wide mobile home or building that could be remodeled for living quarters, and would have the space available to construct a metal enclosed building to store fire trucks securely.
"Proprietary" ISO Rating:
The Eligible ISO PPC™ Rating is only authorized for businesses or residents who "pre-pay" a fire protection Subscription (Annual Dues) to the fire department to establish a fire protection service agreement. Those who do not subscribe for service can be billed Hourly as much as $650.00 per hour, per Apparatus, and $45.00 per hour, per Firefighter costing a homeowner thousands for fire suppression fees if they suffer a fire or similar emergency before becoming a pre-paid fire service subscriber. A resident or business owner who does not pre-pay and establish a subscription is subject to the hourly fees, however there exists no obligation to respond to your location if you are not a current subscriber of our service. (Please click on our ISO designation letters above).
Arizona Department of Insurance (ADOI):
It is critical that all Insurance Agents and Brokers follow established regulations pertaining to eligible ISO Rates as required by the administrative rules under the Arizona Dept. of Insurance (ADOI) and follow those regulations highlighted by Circular Letter 14-07 (click on circular letter below) with regard to the lawful application of ISO PPC Ratings for fire jurisdictions when establishing an insurance policy for a resident or business owner location in our community. A $500 fine can be levied to an insurer or agent in misrepresenting or improperly or intentionally writing a policy under the wrong ISO classification. If the client does not have a "pre-paid" fire protection agreement or "subscription" in place they are deemed an ISO PPC-10 (Having NO fire protection). Once the insured establishes fire protection, he is authorized the ISO Rating being utilized by the insurance company in writing the policy, but not before.


CIRCULAR LETTER NO. 14-07
From the ISO Web Site:
The ISO PPC™ program provides important, up-to-date information about municipal fire-protection services throughout the country. ISO's expert staff collects information about the quality of public fire protection in more than 44,000 fire districts across the United States. In each of those fire districts, ISO analyzes the relevant data and assigns a Public Protection Classification — a number from 1 to 10. Class 1 generally represents superior property fire protection, and Class 10 indicates that the area's fire-suppression program does not meet ISO's minimum criteria.
Virtually all U.S. insurers of homes and business property use ISO's Public Protection Classifications in calculating premiums. In general, the price of insurance in a community with a good PPC is substantially lower than in a community with a poor PPC, assuming all other factors are equal.

A community's PPC depends on:

• fire alarm and communication systems, including telephone systems, telephone lines, staffing, and dispatching systems.
• the fire department, including equipment, staffing, training, and geographic distribution of fire companies.
• the water-supply system, including the condition and maintenance of hydrants, and a careful evaluation of the amount of available water compared with the amount needed to suppress fires.
Insurance Agent's Frequently Asked Question's -
RV Parks:
We serve the Foothills West RV Park north of Casa Grande, the Sunscape RV Resort Co-operative in Tierra Grande, and the High Chaparral RV/Mobile Home Park located outside of Arizona City. (We do not respond to the Val Vista Winter Village, or the Leisure Valley RV Parks as they are not under contract for fire protection and have refused our services. If you reside within either of these two parks, please contact your park manager for explanation).

Response Area Map:
You can view our map on this web page, by clicking on the "New Subscribers" Tab and downloading the map (.pdf) on "View Coverage Map".

What areas do you cover?
We cover approx. 160 square miles and just under 100 State Highway and Interstate miles consisting of the Greater Casa Grande Valley, to include area south of Coolidge and North of Eloy, detailed as follows: The Signal Peak Area NE of Casa Grande to include the Central Arizona College, along with Lake In The Desert Estates, Black Mountain Estates, Woodruff Heights, Chaparral Estates, Saddle Creek Ranch, Beazer's Arroyo Verde, Los Montanas, Ironwood Hills, Val Vista Estates, Val Vista Subdivision, Desert Highlands, Tamarack Village. Areas Northwest of Casa Grande include the Colonia Del Sol Subdividion, Hopi Hills/Indian Hills, Foothills West RV. Areas South of Casa Grande include;

Housing and business districts along Jimmie Kerr Blvd from the County side of Trekell Road to Casa Verde Road to include S. Peart Road, S. Arizola Road, and S. Henness Roads. Housing areas south of Casa Grande and Interstate-8 from Trekell Road, Chuichu Road, to Thornton Road (from South of Interstate-8 to the Tohono O'Odham Indian Reservation).

We serve the Mountain Shadows Estates area which faces the Interstate-10 and Interstate-8 junction area (SW), and additionally, cover the areas immediately south of Coolidge and north of Eloy, as far east as the Picacho Reservoir located east of Highway 87. This includes the Tierra Grande Community, Sunscape Mobile Home Park, Northview Estates, Pinal County Housing Authority, Mary C. O'Brien School and the Chandler Ginning Company facility which are all located on/near Eleven Mile Corner Road. Further east includes the Town of Randolph along Highway 87 and the Twilight Trails Community which are within our service areas.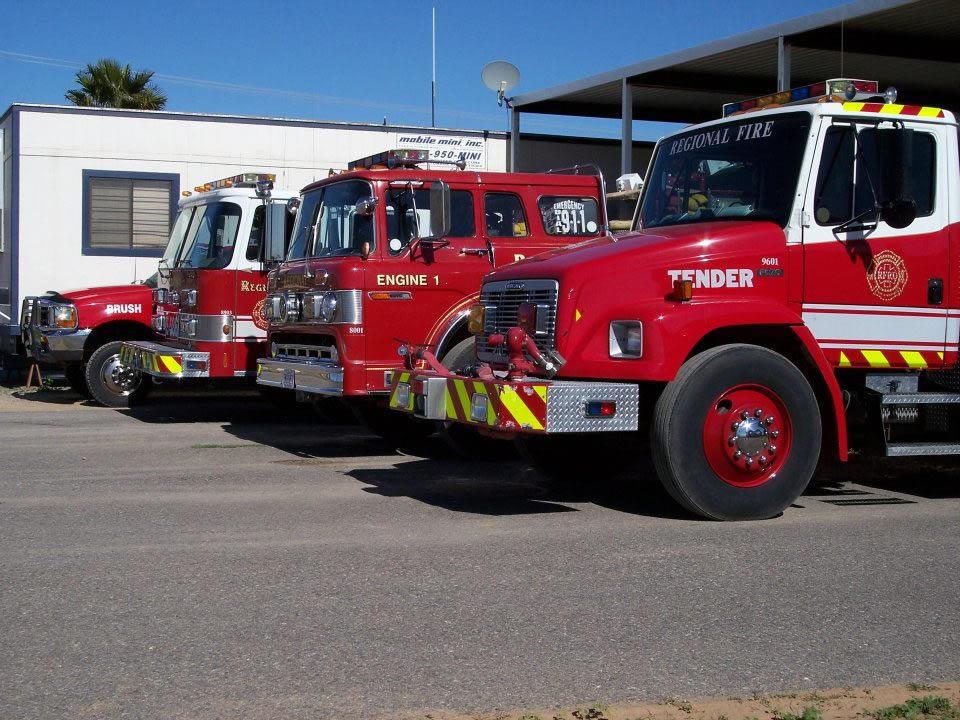 Fire Apparatus:
View apparatus pictures on the "About RFRD" page)
Regional Fire Operates TWO Primary Fire Pumper Apparatus, TWO Water Tenders and ONE Brush Firefighting Truck;



• 1995 Pierce Dash Pumper, 1250 GPM/750 Gallon Tank with A/B Foam
• 1989 Pierce Arrow Pumper, 1500 GPM/500 Gallon Tank
• 1996 Freightliner FL-70 500 GPM/2000 Gallon Pumper-Tender with A-Foam
• 1984 International 500 GPM/4000 Gallon Tender
• 1999 Ford F-550 150 GPM/400 Gallon
Closest Fire Hydrant:
Regional Fire began service to the area on April 8th 1995 without any fire hydrants in our service area of the County. Since that time, we now have over 280 Fire Hydrants, however they are generally located in the newer housing development tracts and not generally located within previously established residential neighborhoods. You can contact the fire station to obtain fire hydrant information which is specific to your business or residence address. Our ISO PPC Rating is based on water carrying capability of a Dwelling Class-8 for response with at least 4000 gallons on the initial response to a Structure Fire within 5 road miles of the fire station.

Fire Station Staffing:
Regional Fire's station is manned 24 hours per day, 365 Days per year by a minimum of Two Fire personnel. Five full-time personnel include (2) Certified Firefighter/EMT's per shift (Four minimum) and the Fire Chief/Paramedic who is on call after normal work days (M-Sat). This schedule of service coverage is maintained utilizing Four (2) full-time Firefighting Staff members on Two Platoons (A-Shift and B-Shift) alternating a 48 or 96 hour workweeks. Saturdays are known as Kelly Shifts where Certified Reserve Firefighter's who are EMT or Paramedic certified are utilized to fill the Kelly Shift every Saturday.
Certified Reserve Firefighters support and assist the full-time Staff Firefighters for additional personnel when needed, provide additional personnel for fire responses and occasional shift-fill opportunities. Some of these Reserve Firefighters are Volunteers, they are Paid-Per-Call, or Hourly (part-time) employees who are Certified as Firefighters, EMTs and Paramedics.
Our average response time is currently 12 minutes. Due to the rural makeup of the response territory we provide service to, with vast mileage consisting of open desert and farm fields dotted with the occasional housing or rural development enclaves, we must maintain a full-time workforce to maintain the quickest and most effective response to our residents in times of emergency. Serving residents from strictly a Volunteer firefighting force is not feasible due to the lack of a population density to support an all-volunteer workforce and excessive territory and resulting response times.
Those volunteers would have to reside within 5 and not more than 10 minutes away to achieve a 15 minute response time (worst case) which would otherwise only be feasible to serve a small community of less than 5 square miles. We currently serve 160 square miles and just under 100 miles of State Highway and Interstate from one fire station with response times upwards of 25 minutes in some cases (to the Pinal-Maricopa County Line on Interstate-8 for the Highway Patrol). Having volunteers only, responding from 10-25 minutes away (to the station) to assist in emergencies would delay the first due response and result in 30+ minute response times. Therefore we must maintain a full-time dedicated workforce with what limited funding we receive, and available subscription dues being directed to support the fire department overhead expenses.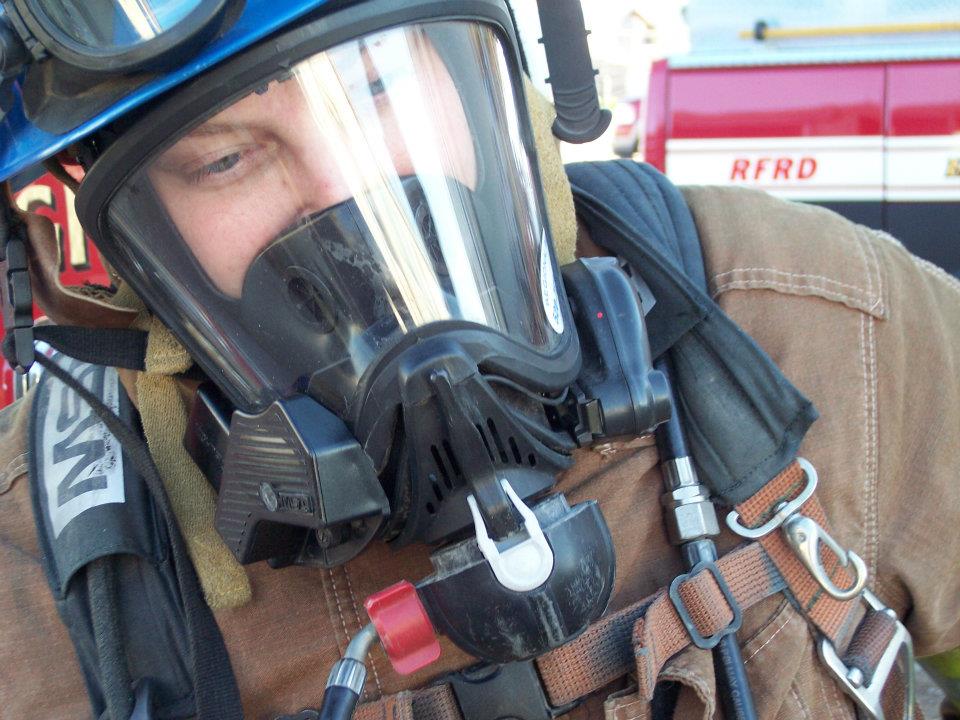 Additional questions can be directed to the Fire Chief at steven.kerber@regionalfire.org. Thank You
RECENT NEWS
NOW HIRING!
- RFRD is currently accepting applications for Reserve Firefighters.
ONLINE SUBSCRIPTION RENEWAL!
- Online subscription renewal is now up and running! Save money, pay online!
Call Volume
| Incident Type | 2010 | 2009 |
| --- | --- | --- |
| Fire | 16 | 18 |
| False Alarm | 27 | 41 |
| Vehicle Fire | 16 | 18 |
| Vegetation Fire | 8 | 7 |
| BLS Calls | 93 | 76 |
| ALS Calls | 12 | 17 |
| Vehicle Accidents | 26 | 40 |
| Vehiche Extrication | 1 | 5 |
| Rescue | 17 | 0 |
| Hazardous Materials | 14 | 15 |
| Service Calls | 123 | 115 |
| Other | 0 | 58 |
| TOTAL CALLS: | 353 | 410 |